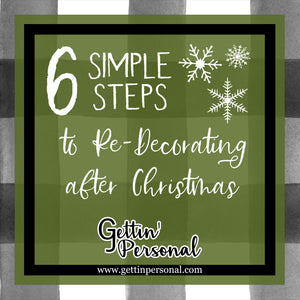 6 Simple Steps to Re-Decorate AFTER Christmas
The wrapping paper has all been tossed, the toys are being enjoyed and those peanut butter balls from your stocking are long gone. You've finally recouped enough to take down the tree but how do you decorate next? I've got 6 ideas for your home in the new year!
1. Pack up your red décor and accents!
Red is heavily associated with Christmas so removing this traditional hue is one easy way to move from holiday décor to a more wintery feel. Mix in more neutrals and... 
2. Add more greenery!
I have a new-found love for all things olive green so this is my favorite tip! Adding more greenery to your décor will refresh the look and can represent new growth into your new year too! Try mixing traditional wintery pine with something more bright like boxwood or eucalyptus!
3. Swap out Santa for a Snowman
If you have little St. Nick motifs or Kris Kringle figurines swap them out for cute little snowmen. Frosty is still associated with Christmas but some simple snowmen can hang out a lot longer! I personally have this cute string art snowman from Jana's Boutique and he'll stay up through the winter!
4. Begin to work back in your general décor line-up
If you take down any of your tried-and-true year round pieces to make way for pictures of red trucks with trees, now is the time to start working them back in. I swap out a lot of my non-seasonal pieces (it makes for really easy decorating) through the seasons but when I'm ready to transition I pull out pieces that look great all year long.
5. Look forward to spring, bring in some happy colors
People start shamelessly pulling out their Christmas décor around Halloween; if the bright and cheerful colors of spring make you happy... bust them out! The stores are already putting out Easter candy, so if you love tulips and pastels, you do you girl! If you click on the photo below you'll find a simple DIY to create that cute centerpiece! 
6. Move from cluttered to cozy
We have a tendency to over decorate for Christmas (its just part of the look!) so neaten up and cut back on the amount of décor you have out as a whole. Move towards a more cozy and clean feel. It'll also give you a jump start on spring cleaning!

Here are a few new pieces I'm using this year!
I love the black and white buffalo check as much as any farmhouse lovin' lady but this grey and white take on a classic seems like a brightened up spin on it and I am excited to try it! Affiliate Link: https://amzn.to/35fqSS6
I am LIVING for these two-tier trays and also trying to talk myself in to getting both the distressed white and the brown! If you want one (or all 3, I'm not judging!) you can get them via Amazon Prime! Affiliate Link: https://amzn.to/2QBkEXG
Jonathan built the most perfect faux mantle for my Christmas present (I'll be sharing ALL the details soon!) and I can't wait to start decorating it for all the seasons but I need some good staple pieces to use with it. These swags are made to look like boxwood and actually come in a pair! They'll be a great foundation for me to incorporate all through the year! Affiliate Link: https://amzn.to/39vj4Py
---
1 comment