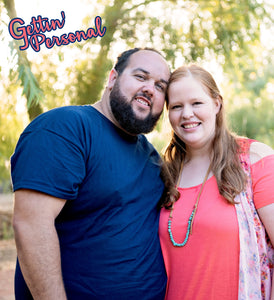 Gettin' Personal with Us...
Every blog needs an introduction right..?
I'm Gwynn, one half of the Gettin' Personal team. My husband, Jonathan being the other half. I'm one of those people who are fortunate enough to say I married my best friend and business partner and we have 3 very unique relationships; a professional relationship, a marriage and the goofiest of friendships. We've been married just shy of 7 months and we've been through some trying times already with family illness, financial restructure and a heartache that somewhat lead to the start of Gettin' Personal.
Prior to meeting Jonathan I had just closed my storefront for my first business The Branded Cowgirl. He'd actually heard of my business and knew of my entrepreneurial spirit early on so he had fair warning of the eventual late nights of crafting to meet deadlines. We eventually rebranded as The Branding Iron Trading Co. to be less feminine as Jonathan had really become part of the team. However, while I have some western roots my interests had shifted. I learned that more than anything I liked creating personalized gifts and one-of-a-kind items.
Fast forward to January; we learned we were expecting! We were on top of the world! One of my best friends was a month or two further along and I was also excited to be bump buddies and have someone to feel my pain with at work. (We both were dog groomers at PetSmart at the time). Everything seemed to be going well until March 13th. It seemed as if I had started my period but I was pregnant, that couldn't be right... I called my obgyn and they ensured me it was just normal spotting. On the 17th when it hadn't stopped and had actually gotten worse I called labor and delivery to get a 2nd opinion, still they said I was fine. Saturday, the 18th I began having cramps around 10am. While I started getting ready for work they got worse until I couldn't stand up straight anymore. In my Petsmart uniform Jonathan drove me to the triage center because something was wrong. By 2:45 I had passed a large mass of tissue and by 4pm they had concluded a miscarriage. Sitting in the triage room waiting to be sent home I needed something to talk about, to occupy my mind. I told Jonathan I thought I would name my new business Gettin' Personal and there in that hospital room I laid out the foundation of this company.
In the coming days I spent every moment I had working on products that I would like to offer, bugging friends to leave reviews of custom work I'd done for them in the past and keeping my mind, my heart and my hands busy. We are a couple days shy of two months in business and already we've surpassed my goals and we are continuing to build. I've pressed more shirts than I can count, cut more decals and painted more signs than I had in the past year. Its been the best thing for me to focus on something positive. To everyone who's shared my business, placed an order or even just liked a picture on Facebook; I am so THANKFUL for your help and support when you didn't even know how badly I needed it.
If you've made it this far you're either very interested in my life, killing time or my mom (Hi, mom!). I promise future posts will feature all sorts of things like projects we are working on, DIY tutorials and more! I look forward to gettin' personal with you!
<3
Gwynn
facebook.com/gettinpersonal
---
1 comment