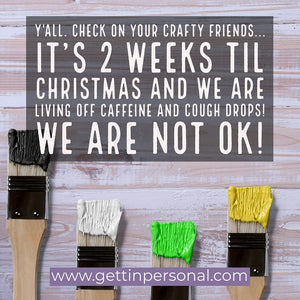 Twas One Crafty Christmas...
Fellow creative entrepreneurs I wrote this one for you...
 'Twas two weeks before Christmas, when all through the house
Craft supplies were all strewn about;
Glitter and glue guns and paint everywhere,
A sewing machine humming along sewing a stuffed bear;
The children were nestled all snug in their beds,
"Ahh finally I can get some work done!" the crafter said;
Just a few more bows to tie around the gift-wrap,
Then maybe I'll have time for a nap!
When out on the lawn there arose such a clatter,
I sprang from my work table to see what was the matter.
Away to the window I stumbled over supplies,
Tore open the curtains and to my surprise,
I saw 8 reindeer and a little red sleigh,
Had Santa forgotten Christmas is still weeks away?
He dropped down near my window and peered inside,
Then looked around my messy craft room with eyes open wide.
"You look like you could use some help!" He exclaimed
"Well we don't all have elves" I explained.
He said "No bother, let me lend you a hand!"
And wouldn't you know it, he's a crafty little man!
More rapid than eagles he did work,
Sewing stuffed animals, pressing vinyl on shirts,
He helped weed decals for tumblers and ornaments too,
They read "Baby's First Christmas" in pink and in blue.
We helped sand and cut wood for projects abound,
Family established and welcome signs to go around,
He was covered in sawdust, from his head to his foot,
He's earned his milk and cookies tonight, simply put!
He was a mess, that jolly old elf,
And I laughed when I saw him, in spite of myself;
A wink of his eye and a twist of his head,
Soon gave me to know I had nothing to dread;
He knew my struggles, and went straight to work,
And helped fill all my orders; then turned with a jerk,
"Mrs. Claus will be expecting me, but I hope I did alright!"
And giving a nod, I said "Thanks for coming, you saved my night!"
He sprang to his sleigh, to his team gave a whistle,
And away they all sprang like the down of a thistle.
But I heard him exclaim, ere he flew into the night,
"Merry Christmas Dear Crafters, the end is in sight!"
-Gwynn Jones 2018 
Feel free to share and pin for your fellow creatives!
---