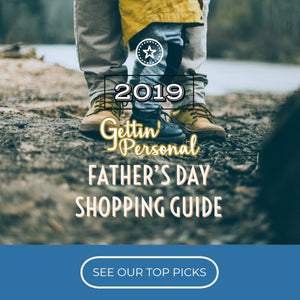 Father's Day Gift Guide
The days of giving him a new tie every June are long gone! Father's Day gifts can range from simple handmade gifts to lavish golf weekends and even more. There are so many options that are just as unique as the man himself! 
My dad was the tool dad; the kind you gave new Craftsman sets to for just about every holiday. But now there are techy dads, sentimental ones and practical ones too!
We've compiled a few of our favorite gift ideas for all kinds of dads just in time! (AND most of them are available from Amazon Prime, you're welcome mama!)
1. The Tool Man - Can be found tinkering in the garage, cruising the isles of Lowes or working on a new project!
This crazy cool head lamp is sure to be a winner! Why have dad struggle to hold a flashlight when he needs both hands to work on a car or home improvement project? (I know I was often fired form holding the light for my dad!)
THIS. This was the #1 Rule. Dad will appreciate the reminder to hang in the shop or garage! Snag our handmade sign here!
This is what Jonathan got last year; Ryobi makes some great tools and I feel that many of their pieces will be making their way to our shop. Quality products make a huge difference! If you're looking for a show stopper gift for dad; this is it! Grab it here!
2. The BBQ & Beer Drinker - He a relaxed guy that likes a cold brew next to a grill (and we love the food he makes!)

His food has always been phenomenal, no doubt. But he's about to please your taste buds... once you grab him
this smoker!
This is one of our best sellers
; it can per personalized for anyone; Veterans, funny guys, sports fans and more! And then you add the ULTIMATE personalization; his favorite brew!
One of our
new releases
this year that is my favorite! Dad will LOVE this in his man cave!
3. The Sentimental Dad - He has pictures of family on his work desk, handmade cards melt his heart!
Last year I started a tradition; each Father's Day Levi will get to pick out a book for Jonathan. Something special between them. We'll put a little note in the front cover and someday he'll have quite the library for them to read together. "T is for Turbo" is the book they'll be adding this year!

This was our pick for last year; its the sweetest daddy and me book (works for girls and boys!). Even if you're not looking for a Father's Day gift this is one to add to your little one's book collection!
Our Double Photo hanger is a great way for dad to display some of his favorite memories! It comes ready to hang but also sits nicely on his desk at work. The quote is easy to swap out too so we are happy to personalize it!
Last year I did a little crafting with Levi to make Jonathan's Father's Day card! Even at 4 months old he was able to participate! (And did I mention it was mess FREE!) Here's the link to this fun activity! 
4. The Outdoors Man - Fishin', huntin' and lovin' his family! (Yes that was as cheesy as a dad joke)
Fishing Organizer Bag (Jonathan has
this one
on his wish list!)
We are a fan of personalized gifts around here and this one is awesome!
A personalized hunting knife!
They offer lots of options to make it special for dad!
This takes multi-tool to a whole new level!
This 16-In-One
is a must have for camping and hunting trips because you just never know. (It also features a bottle opener because... you just never know!)
5. The Grandpa (or Papa or Pappy or...) - He is still a dad but his favorite name was given to him by his favorite little people!
He LOVES telling everyone he is a grandpa. He brags about his grandkids. He NEEDS this shirt. (This would also make an ADORABLE pregnancy announcement for a NEW grandpa to-be!)
This one isn't JUST for grandpa, grandma can relate to it too!
This has GOT to be the cutest book ever! Give them a chance to spend quality time on grandpa's lap with this one! (They also have a 'Grandma' one!)
So there you have it, our top suggestions for Father's Day gift-giving 2019! I'd love it so much if you pinned this for more mom's and kiddos out there to see!
I have provided affiliate links for your shopping convenience. If you buy something from clicking one of my links, I do get a commission from the sale. It will not cost you a penny more and allows me to keep sharing my ideas with you for free. Thank you for supporting my blog!
---